Ladies and gentlemen, from Dixon California,
Matt & George and their Pleasant Valley Boys
Traditional bluegrass from 1947 and before.
Our next appearance …
Stay tuned here for details about our next live appearance.
View all of our upcoming events.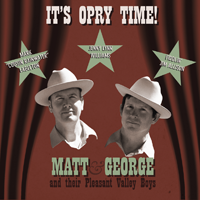 New Release: It's Opry Time!
A daring tribute to the forefathers of bluegrass music and the old fashioned way of doing things, It's Opry Time! is our attempt at recreating some of the very first recordings and performance of cherished bluegrass standards and forgotten relics, all recorded live and into a single microphone!
Learn more about how we did it on our Opry Bonus page. When you purchase the CD, enter your secret code on this page to unlock exclusive bonus material!
Purchase Our 78
Matt & George and their Pleasant Valley Boys perform "Heavy Traffic Ahead" (backed with "I Hear a Sweet Voice Calling") on 10" vinyl, at 78 RPM.
Available for purchase at Pleasant Valley Music for $10 plus $3 postage
and processing.