Ladies and gentlemen, from Dixon California,
Matt & George and their Pleasant Valley Boys
Traditional bluegrass from Northern CA, since 2007.
Our next appearance …
Ruhstaller Shop
800 Business Park Dr.Suite G, Dixon, CA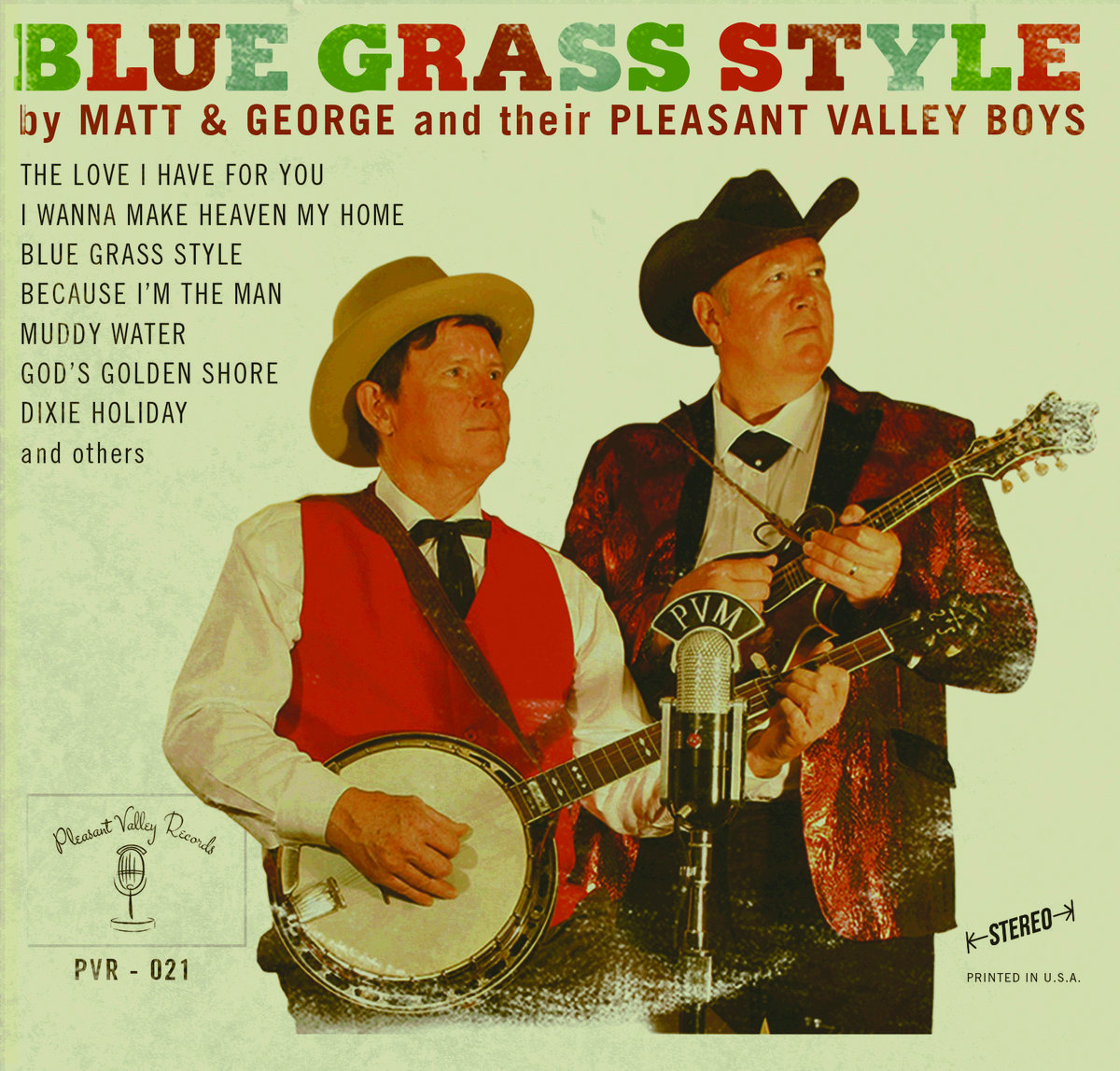 Blue Grass Style
Pickers of traditional-styled blue grass music are always paying tribute to their musical heroes. Whether it's "here's a lick I learned from so and so", or just that they stay "within the rules". Matt & George have tried to take this idea just a step further, in order to make this recording special. They have chosen songs learned from their (mostly early, local) blue grass heroes. It is, after all, the band's 10th anniversary. With all original members, at that!
Available on Bandcamp, Apple Music, Spotify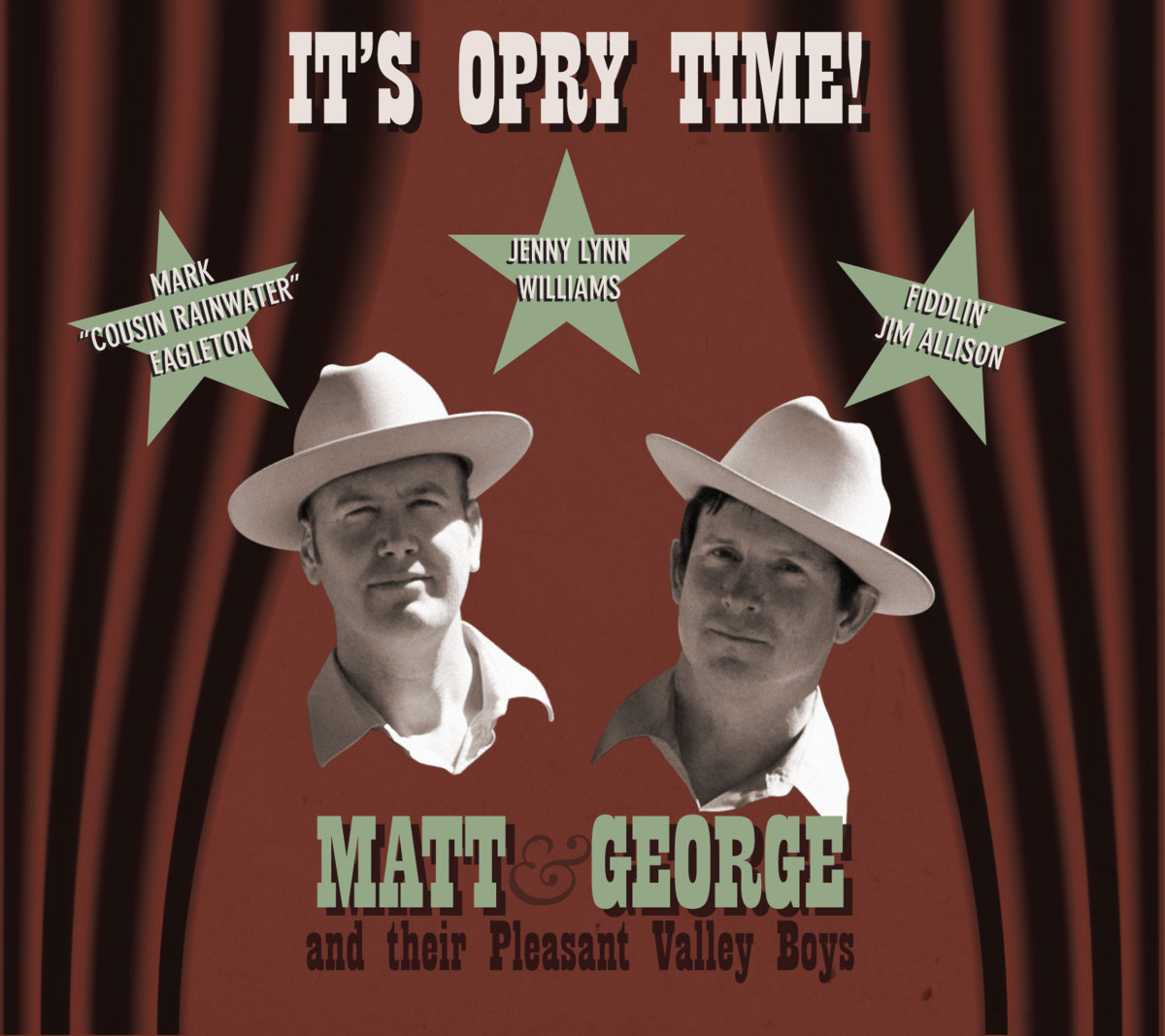 It's Opry Time!
A daring tribute to the forefathers of bluegrass music and the old fashioned way of doing things, It's Opry Time! is our attempt at recreating some of the very first recordings and performance of cherished bluegrass standards and forgotten relics, all recorded live and into a single microphone!
Learn more about how we did it on our Opry Bonus page. When you purchase the CD, enter your secret code on this page to unlock exclusive bonus material!
Available on Bandcamp, Apple Music, Spotify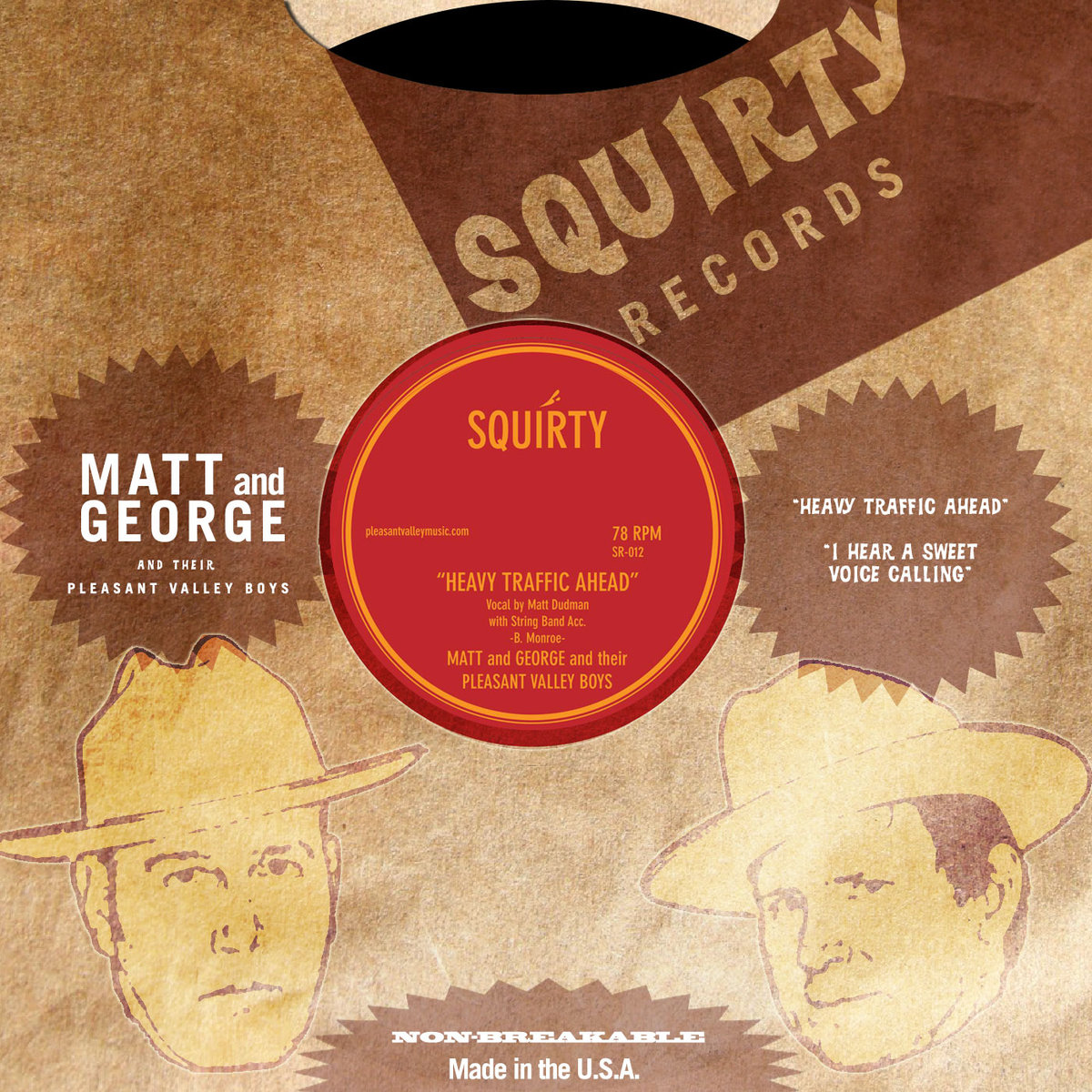 Heavy Traffic Ahead/I Hear a Sweet Voice Calling 78
Matt & George and their Pleasant Valley Boys perform "Heavy Traffic Ahead" (backed with "I Hear a Sweet Voice Calling"). The songs were recorded the old fashioned way, with the entire band performing simultaneously in one room (no overdubs or fixes) into a 1939 RCA-44 ribbon microphone.
Available on Bandcamp, Apple Music, Spotify
Also available for purchase on 10" vinyl, at 78 RPM. Pleasant Valley Music for $10 plus $3 postage and processing.
About the Band
Matt & George and Their Pleasant Valley Boys have been performing traditional bluegrass the old fashioned way, into a single microphone since 2006. They entertain for weddings, corporate events and parties all over Northern California, including regular appearances at the Dixon Lambtown Festival and the big Father's Day Festival in Grass Valley, as well as on ABC Television. They have also pleased crowds at the IBMA 'Fan Fest' in Kentucky, on Louisiana's Abita Opry, at the International Bluegrass Music Museum's River of Music Party in Kentucky, and even taken bluegrass abroad to Vietnam and France. The Pleasant Valley Boys provide fun for all, with hot instrumental licks and sweet vocal harmonies, backed by a tight rhythm section, all packed into a fast paced, entertaining music show like you've never seen before.
Matt & George and Their Pleasant Valley Boys is made up of all original members Matt Dudman, mandolin; Fiddlin' Jim Allison, fiddle; George Goodell, banjo; Mark "Cousin Rainwater" Eagleton, string bass; and Miss Jenny Lynn, guitar. All members sing.
Quotes About The Band
"Our guests really enjoyed your music and it really added to the event.
We appreciate your flexibility. Thanks so much"
"We absolutely loved you guys (and girl). We want to invite you back!!"
"Absolutely razor-sharp in technique and style [was] mandolinist Matt Dudman."
"[George Goodell's] banjo playing is Scruggs and Stanley correct, & not a bit bashful."
Bluegrass band of the year nominee 2011